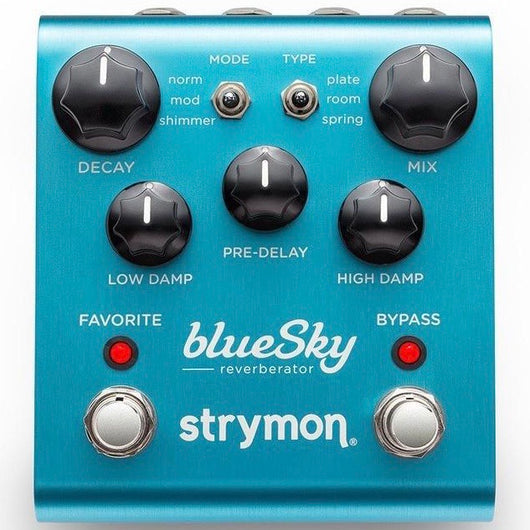 Strymon Blue Sky Reverb Pedal [Available In-Store Only]
Regular price $299.00 Sale
Whether you're a classic spring reverb fan or a studio rack aficionado, you'll find your mojo here. blueSky provides three different reverb types, each with three modes, for a total of nine completely unique reverb experiences. blueSky even delivers an extremely versatile plate reverb, a rarity for a stompbox pedal. A full pre-delay and damping section provide deep reverb tone shaping. Add the mod and shimmer modes and you're in store for unending reverb bliss. Couple that with 24-bit 96kHz converters and 115dB typical signal to noise, blueSky is equally at home on top of a studio console as it is in front of a tube amp.
Modes:
Normal mode provides an unmodified version of the selected reverb type.

Mod mode adds gorgeous modulation to the selected reverb type.

Shimmer mode adds regenerative pitch shifting "in the tank" for a reverb trail that rises into the clouds. With the Plate type, pitch shifting is octave-up. With Room and Spring types, pitch shifting is an octave plus a fifth.
Types:
Plate is an intensely high quality vintage studio plate reverb.

Room is a versatile room ranging in size from a small bedroom to a massive arena, depending on where you have your Decay, Mix and Pre-Delay set.

Spring is an excellent recreation of the best spring reverbs we've found.