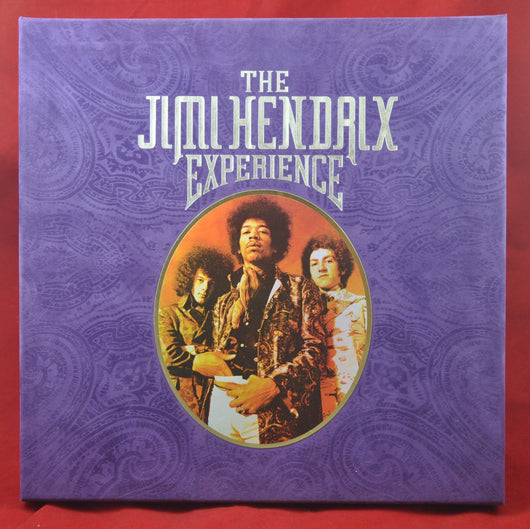 Jimi Hendrix Experience ‎– The Jimi Hendrix Experience Velvet Box Set, 8 LPs, NM
Regular price $135.00 Sale
See video HERE
Artist: Jimi Hendrix, Jimi Hendrix Experience
Title: The Jimi Hendrix Experience
First Released: 2000
Year of this Pressing: 2000
Label: Experience Hendrix, MCA
Catalog Number: 088 112 316-1
Country of Origin: U.S.
Barcode/UPC: 0 08811 23161 3
Condition of Vinyl, Visual Inspection: NM, 180 gram LPs, all 16 sides appear unplayed
Play graded: N/A
Condition of Cover: NM, velvet covered box corners are sharp, each LP has a crisp and NM cover
Inner Sleeve/Inserts: Comes with booklet and post card, 8 LP covers with fantastic artwork, all NM condition. Each LP has an original white poly-lined paper sleeve.
Genre/Style: Psychedelic rock
Description/Notes: First pressing, eight 180 gram LPs in velvet-covered box. Includes 56 unreleased or previously unavailable recordings, a 40-page full color book, and separate album jackets for each LP inside.We very rarely grade vinyl as NM, but this box set qualifies. Limited Edition of 5,000.  See contents HERE
If you are buying sealed records, they are sold as-is unless you request that we open them and inspect them for issues.  If we find issues, we would refund your purchase and not ship the records.