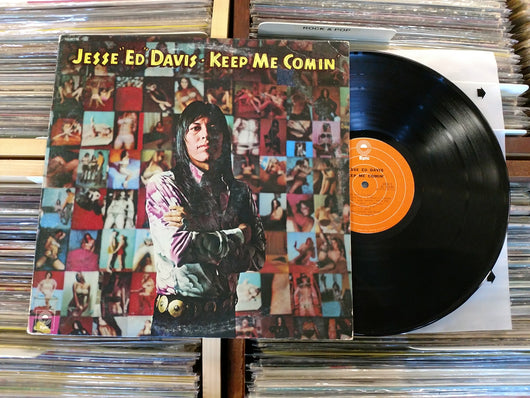 Jim Ed Davis - Keep Me Comin' LP, 1st Press With Inners
Regular price $25.00 Sale
Artist: Jim Ed Brown
Title: Keep Me Comin'
First Released: 1973
Year of this Pressing: 1973
Label: Epic
Catalog Number: KE 32133
Country of Origin: US
Barcode/UPC: None
Condition of Vinyl, Visual Inspection: EXC
Play graded: N/A
Condition of Cover: VG, price sticker on front (darkened under the C), ring wear, corner crease, front is actually quite presentable anyway, back is nice
Inner Sleeve/Inserts: Orig sleeve and original lyric sheet
Genre/Style: Psych Rock
Description/Notes: Great record!

All our non-sealed records are carefully cleaned and re-sleeved with new, premium quality inner and outer sleeves before posting. The original sleeves will be included when available. Your vinyl selections will arrive to you clean and ready to play.
If you are buying sealed records, they are sold as-is unless you request that we open them and inspect them for issues. If we find issues, we would refund your purchase and not ship the records.